In many ways, this has been the hardest update to write. The differences between the quality of these last five characters is so minute that I've actually changed the overall ranking twice since the last post. Also, I've noticed that the posts have been getting longer and longer as time has gone on, making this the most difficult to write in terms of sheer volume as well. We know that only five remain and that they're the best around, but only one can say that nothing ever keeps them down.
5. Ashley Williams (Mass Effect)
Wait a second...That's Victoria from How I Met Your Mother. Apparently, her actress is Ashley Williams.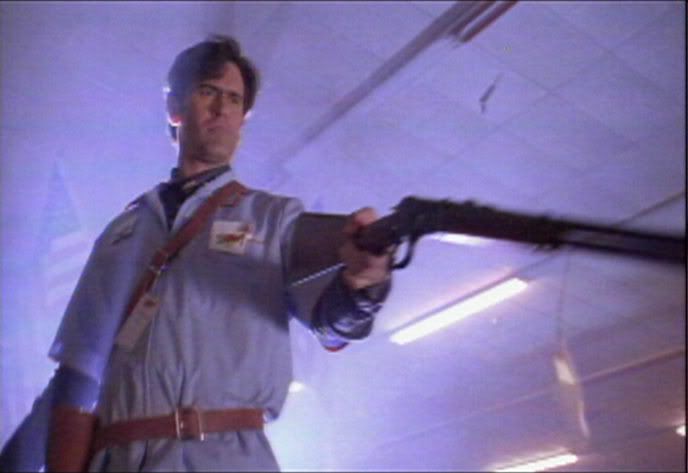 No, that's Ashley "Ash" Williams from Evil Dead
There we go! Who knew there were this many famous Ashley Williamses?
Apparently famous name aside, Ashley Williams is one of the best thought out characters in the
Mass Effect
universe.
There's always more to this character than meets the eye. She has a minor role in
Mass Effect 2
and is poised for a bigger role in next week's
Mass Effect 3
, but I'll be focusing mostly on her time in
Mass Effect 1
, since that's where we got to know her. When you first see her, she's on the run after a bunch of robots launched a surprise attack on Eden Prime, an agrarian colony whose primary exports are rainbows, smiles, and the laughter of small children. You help her out because her armor is pink and this a video game, ipso facto she is completely helpless. However, she turns out to be the most-effective non-Shepard member of your team on Eden Prime (although this is because the alternatives are Kaidan the Awful and Richard L. Jenkins, who dies 3 minutes into the game and was so irrelevant that I didn't rank him. He'd still be above Kaidan though!). Ashley isn't so much an everyman as she is a strong conduit to the everyman of the 22nd century. Back in 2007, I didn't have any strong opinions on the involvement of Turians at Shianxi because what are those things? (Short answer: Turians = Space Romans, Shianxi = Only Human Colony to ever surrender to aliens, specifically the Space Romans). However, Ashley lets you understand the anxieties of humanity integrating into a galactic community without shading your opinion one way or the other. By the end of
Mass Effect 1
, Ashley respects the contributions of her alien teammates. And isn't that the foundation of tolerance and trust?
Ashley is a woman of tradition. In many ways, her views are old-fashioned, but understandable and easy to relate to. She comes from a family where generation after generation has served in the Alliance military (which is impressive considering that the Alliance is just 40 years old by the time of
Mass Effect 3
). Unfortunately, she has the ignominy of being the granddaughter of the only human to surrender to aliens. But rather than perpetually complaining about it like certain Kaidans who won't be named, she uses that as motivation to try harder. She's also a poetry enthusiast and enjoys the works of Alfred Lord Tennyson, who was all about sucking it up and winning one for the team. Since she's the only soldier on the team, that makes her a warrior poet, which means that she must also fight like a true Scotsman (according to
Braveheart
, at least). Lastly, she's the only character who openly admits to being Christian and is not a villain, and that could be in any game, not just
Mass Effect
(Shortest Top Five Ever: the Top Five Christian Protagonists in Video Games. Off the top of my head: Ashley, Liam Neeson in
Fallout 3
,  Cole Phelps from
L.A. Noire,
is Batman a Christian? I think he celebrates Christmas, and ummmm... a fifth guy). She's the most familiar thing to the player in an entire galaxy of strange aliens, cultures, and emotionless "wounded soul" guys.
But I digress. The best moments for Ashley comes when she realizes that the Reapers are actually a race of sentient warships who predate time itself and whose power is beyond the scope of human comprehension. I'm going to paraphrase here, but she says that "my rifle may as well be a pea shooter if I'm up against a warship" but won't give up the fight. That is the ultimate sassback in the line of duty. "I'm hopelessly outgunned and certain to die, but WHATEVA! I DO WHAT I WAAAAAAAAAAAAAAAANNNT!!!!"
Apparently, Spectre's get free makeovers
Finally, I like where her character is going. She had virtually no role in
Mass Effect 2
other than to show up at the end of Act I and be super mad that you didn't call her. You can try to explain that you were clinically dead most of that time and she was at work when you tried to call, but she'll still be mad at you. You can say she's being over-emotional and that'll just make her even madder. So I guess that makes her probably the most realistically written female in any game ever (Note to all fine honeys: there was no "You're right, I'm sorry" response. I tried my best to find it though!). However, by
Mass Effect 3
, we find out that Ashley has become a Spectre (sort of like a Space Government Sponsored Badass, charged with cracking skulls that armies can't effectively reach). This is the best kind of writing because it explains the stuff that didn't make any sense in previous games while retaining plausibility. Ashley was at the end of Act I because the Alliance was grooming her to be awesome and awesome people understand dramatic timing. Her files were classified and she was impossible to reach because, in Shepard's absence, she was the most qualified human secret agent type.
Most importantly, Ashley's survival means that Kaidan dies. Ignoring the previous 800 words, this act alone makes her worthy of a top five spot. In fact, let's watch that glorious moment together!
YES YES YES! NOTHING IS LEFT OF KAIDAN BUT MEMORIES! ANGSTY, ANGSTY MEMORIES!